Interested in Improving your Rental Property?
Click here to go to Central Minnesota Housing Partnership's Rental Rehabilitation Deferred Loan Program, which can cover the costs of repairing or replacing: roofing, siding, windows, doors, insulation, floor coverings, painting, kitchen cabinets/bathroom vanities, appliances, plumbing, furnaces/boilers, electrical, code issues and health and safety items. Eligible soft costs may include administrative fee, title and recording fees, lead paint/asbestos assessment costs and architect fees.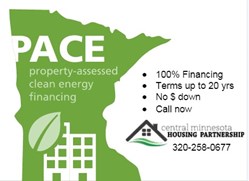 Central Minnesota Housing Partnership is can also assist with financing of energy efficiency and renewable energy upgrades to building of commercial property owners through Property Assessed Clean Energy (PACE).
Call Central Minnesota Housing Partnership at 320-259-0677 for more details.